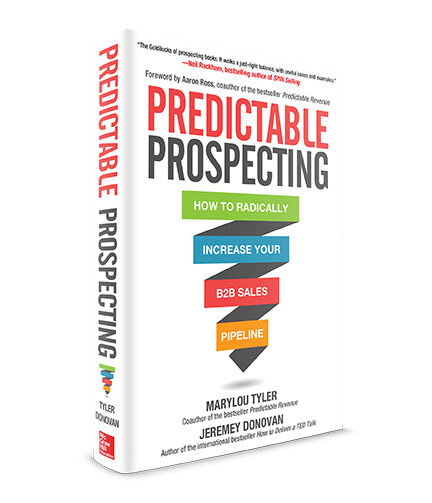 You've found the super secret, very special, Predictable Prospecting book swag (stuff-we-all-get) page!
Yay for you! Wanting to maximize your ROE (Return-on-Effort). That's exactly what I want for you too.
I'm dripping content both here and on PredictableEDU.com (where there are complimentary and paid-for classes) as people ask for more help, and asking you to check back often for updates.
If you're like me and forgetful, sign up for my mailing list and I'll be sending out e-mails every time I add another piece of content. Deal?
Got you covered.

If you have any questions regarding something you read, or needed clarification on, whether from Predictable Prospecting, or Predictable Revenue, ask it here.

I'll respond to your question and either post on my YouTube channel, add it to this SWAG page, or create a speedy course on PredictableEDU.com

Better yet, if you sign up for my list, you'll receive additional training materials to help you excel at prospecting - whether it's the process, your skills, or fine-tuning your mindset to be better each day.