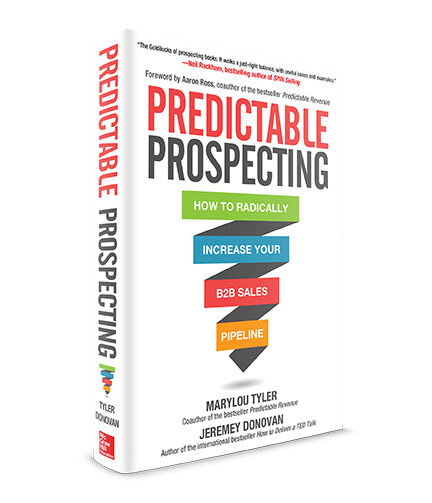 You've found the super secret, very special, Predictable Prospecting book swag (stuff-we-all-get) page!
Yay for you! Wanting to maximize your ROE (Return-on-Effort). That's exactly what I want for you too.
I'm dripping content both here and on PredictableEDU.com (where there are complimentary and paid-for classes) as people ask for more help, and asking you to check back often for updates.
If you're like me and forgetful, sign up for my mailing list and I'll be sending out e-mails every time I add another piece of content. Deal?
7-Step Success Path
The big steps to get from where you are to where you want to be.
20-minute audio walk through of Predictable Prospecting
Narrated by Marylou Tyler, this podcast walks through the chapters of Predictable Prospecting and what you can expect to take away from each section of the book.
Predictable Prospecting
Marylou Tyler's Book Bites – Predictable Revenue and Predictable Prospecting
Links to webinars and downloads
A Google Docs page that is updated periodically from worldwide speaking engagements & workshops I attend or facilitate.
7 Phone Habits to Secure More Meetings (First & Follow-up)
Battling List Fatigue
As high as 60% of your list can get fatigued after one touch sequence (8-10 touches).  Prepare yourself for your targeted outreach campaigns by calculating exactly how many records you need to consistently make your sales opportunity numbers.
This video covers information shared on page 93 of Predictable Prospecting (Chapter 5).
How to build a sales-pumping pipeline
A guide for the Director of New Business Development:  In this guide, we map out the implementation of the opportunity pipeline (prospecting from pre-initial-conversation through opportunity generation) for your organization, with cadences & sequences you can implement today.
How to craft a compelling message
A thorough review of Chapter 4 from Predictable Prospecting – Crafting Compelling Messages.
Developing your ideal prospect persona - a worksheet & blank form
 From chapter 3, this file contains a sample and blank form for you to fill out your Ideal Prospect Persona.
Follow along referencing Chapter 3, and you'll see how I built the first form.  
Then use the blank form to generate your own prospect persona.  
Remember we're trying to navigate in and around the influencer bullseye (especially for you account-based sales development – ABSD folks) to start conversations or get referred in for that crucial, initial conversation & meeting.
S.W.O.T-6 - developing a deep understanding of your market position and value
From Chapter 1, this file contains the blank SWOT-6 form I use with clients.
Chapter 1 goes into detail how this form is filled out (we used Salesforce.com as the demonstration company for the SWOT-6).  
I promise you if you complete this form, you will absolutely know your value proposition, where your product or service is best positioned, and where to focus your efforts for prospecting.
Cold e-mail copywriting - what to look for if outsourcing to an agency
A document to bring awareness around out-sourcing the writing of e-mails (and other persuasive content) to agencies.
We sometimes work with clients who don't have the resources, time, or clever writing skills needed to crank out e-mails, templates, content assets and other materials for the Cold, Working or Nurture stages of the prospecting pipeline.
The author's corner - an interview with my co-author Jeremey Donovan
A podcast episode only available here!  My discussion with Jeremy Donovan had more than a handful of great takeaways for:
how to automate your prospecting efforts,
when to know if a lead has potential or not, and
why he feels you should Role Play, every day to hone your craft.
Got you covered.

If you have any questions regarding something you read, or needed clarification on, whether from Predictable Prospecting, or Predictable Revenue, ask it here.

I'll respond to your question and either post on my YouTube channel, add it to this SWAG page, or create a speedy course on PredictableEDU.com

Better yet, if you sign up for my list, you'll receive additional training materials to help you excel at prospecting - whether it's the process, your skills, or fine-tuning your mindset to be better each day.